MeasureOHM® is a Turnkey Hardware/Software Data Acquisition System that is capable of measuring and recording multiple electrical resistances per test device. Each individual (port) electrical resistance is evaluated with respect to a User defined Min/Max specification resulting in a computer generated (overall) PASS/FAIL displayed result for the test device.
MeasureOHM® is designed to interface to your test device whether it be a RTD sensor, PCBA assembly, or other electro-mechanical device.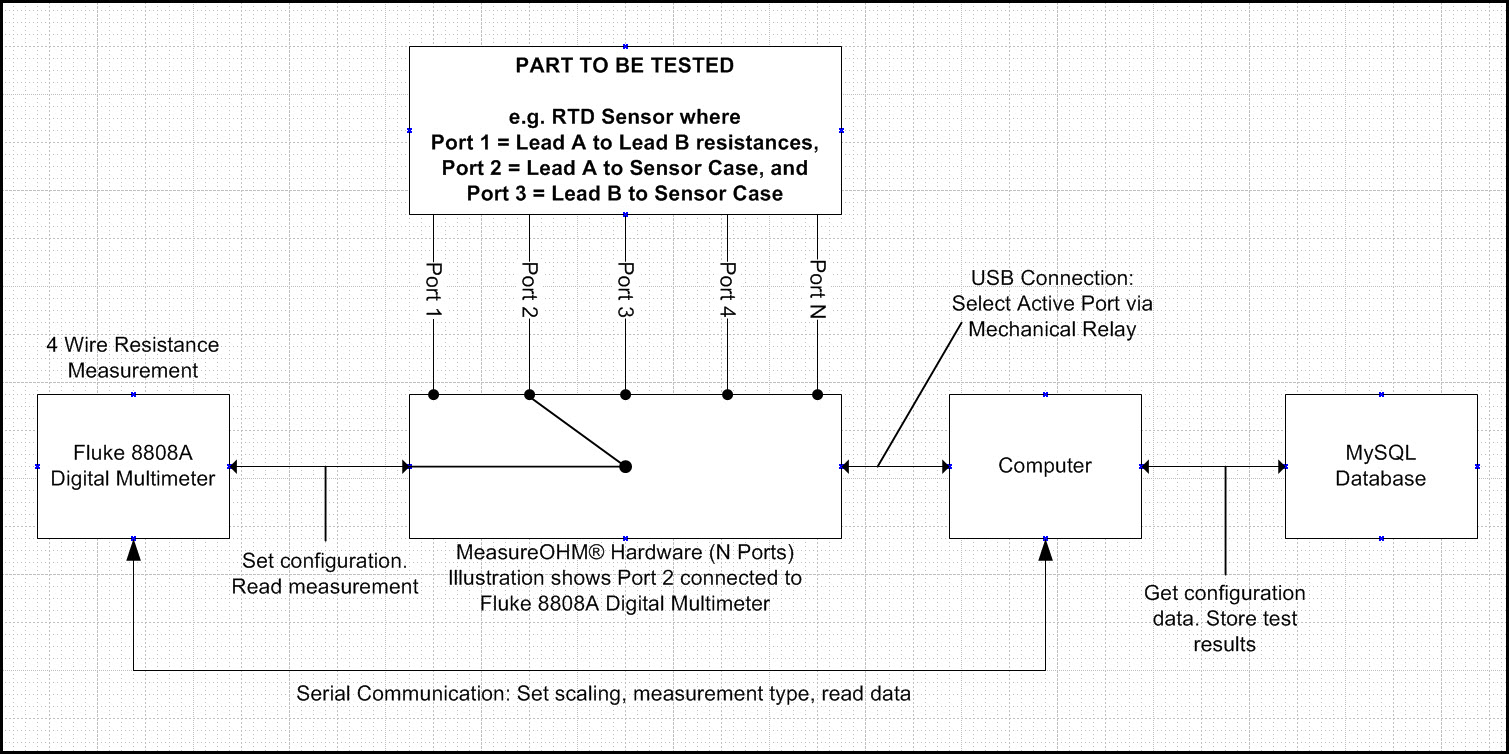 The MeasureOHM® system offers the following features:
Standard 19 inch rack mount Electronics Cabinet (Height = 4U)
Up to Eight (8X) device/port resistances measured sequentially (approximately 1.5 seconds between measurements)
Wide Resistance Measurement Range: 10 microohms to 100 Megaohms via the integration of a Multiplexed/Switched Fluke 8808A Digital Multimeter
Four Wire Resistance Measurement method results in minimizing test lead resistances
Use of the mSPECIFY® software utility program which is used to configure and store the test parameters for a specific test part number (up to 100 unique test profiles may be stored)
Full traceability of electrical resistance measurements to the test part serial number by logging of all test measurements and results to a MySQL Database with the first year of service provided at no charge.
Use of the mDATA® software utility program which is used to data mine and export the stored results in MySQL directly to MicroSoft Excel.
Optional implementation of Good and Bad Gage R&R units (daily runs required). This process is a simple way of knowing that your measurement system is setup and running correctly.
The MeasureOHM® System is validated which means that you can easily integrate the System into your ISO 9000 Quality System as part of your Manufacturing Environment.
Contact us at sales@cathcad.com for more information.